AC110V/ AC 220V~240V Submersible Water Pump for Pond, Aquarium, Hydroponics, Fish Tank Fountain for Low Water Level
AC Aquarium Submersible Pump
Model No.: XP-301


----Full submersible;
----energy saving;
----durable and safe;
----ultra-quiet
----suitable for all kinds of aquatic plants and fish farming filtration;
----applied to aquariums or fountain display.


Specifications


| | | | | | | |
| --- | --- | --- | --- | --- | --- | --- |
| Item # | Voltage | Power(W) | Flow | Height max | Pump Size | Qty/ctn |
| XP-301-7W | 110V/220V~240V | 7W | 500L/H | 0.5M | 80*70*90mm | 60pcs |
| | | | | | | |
| --- | --- | --- | --- | --- | --- | --- |
| XP-301-15W | 110V/220V~240V | 15W | 4500L/H | 0.9M | 100*80*110mm | 45pcs |
| | | | | | | |
| --- | --- | --- | --- | --- | --- | --- |
| XP-301-25W | 110V/220V~240V | 25W | 4500L/H | 1.8M | 100*80*110mm | 45pcs |
| | | | | | | |
| --- | --- | --- | --- | --- | --- | --- |
| XP-301-35W | 110V/220V~240V | 35W | 4500L/H | 2.8M | 125*100*135mm | 24pcs |
| | | | | | | |
| --- | --- | --- | --- | --- | --- | --- |
| XP-301-55W | 110V/220V~240V | 55W | 4500L/H | 3.6M | 175*135*180mm | 18pcs |
| | | | | | | |
| --- | --- | --- | --- | --- | --- | --- |
| XP-301-95W | 110V/220V~240V | 95W | 4500L/H | 4.0M | 175*135*180mm | 8pcs |

MAIN FEATURES

★Samrt control, dry running automaticly cut power.(Principle:Dry running opreation will increase motor temperature, then the pump will automatically shut down, but the motor will restart working after the temperature goes down. Therefore, when the motor automatically turned off we need to cut off power immediately. This function can effectively reduce the damage caused by dry running.)

★With bottom suction trainer,100% submersible.

★Maximum flow rate: 4500LPH STRONG POWER and HIGH LIFT. Max Lift Height: 4M. 95W high efficiency motor for energy saving.


★Lift height is a max height the water goes up, after connecting the water pipe to the nozzle (Make sure the joint sealed securely and tightly) SUCTION CUP and POWER CORD. Long enough cord for easy installation.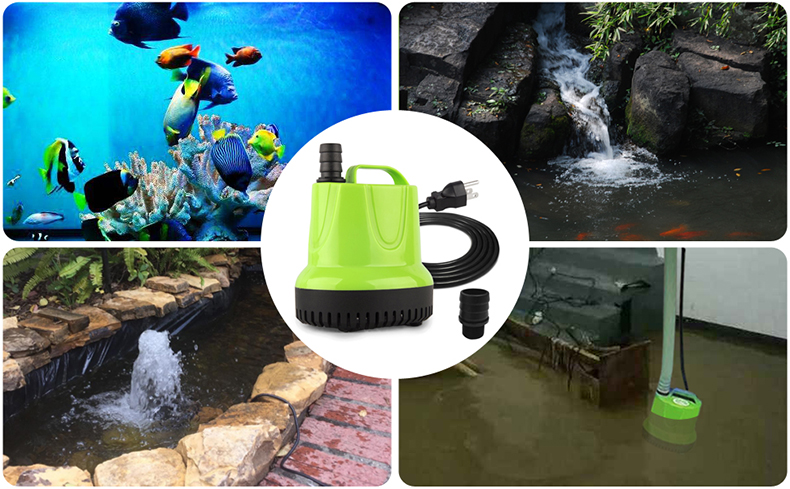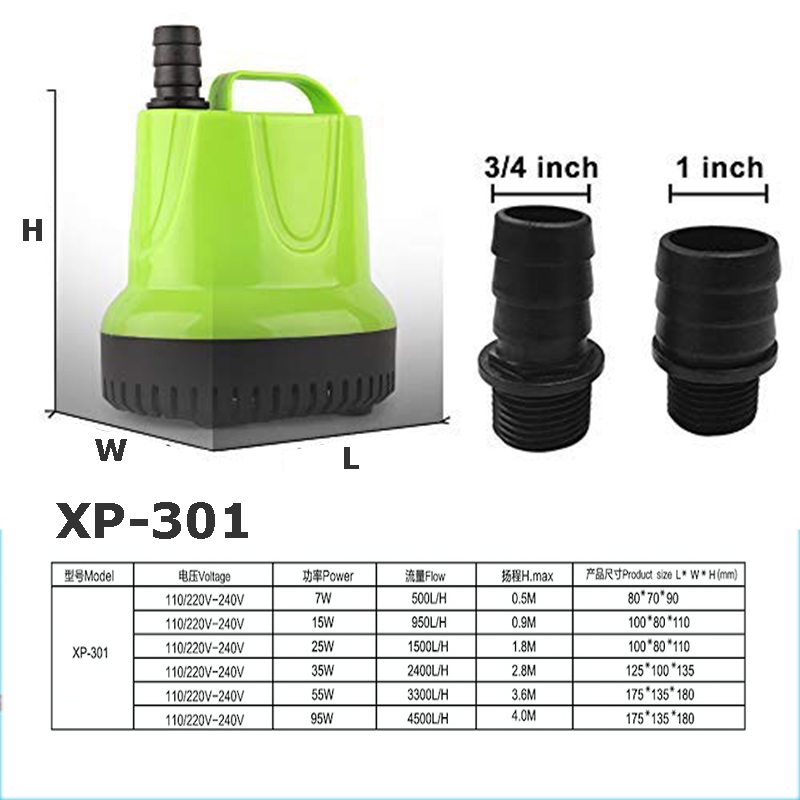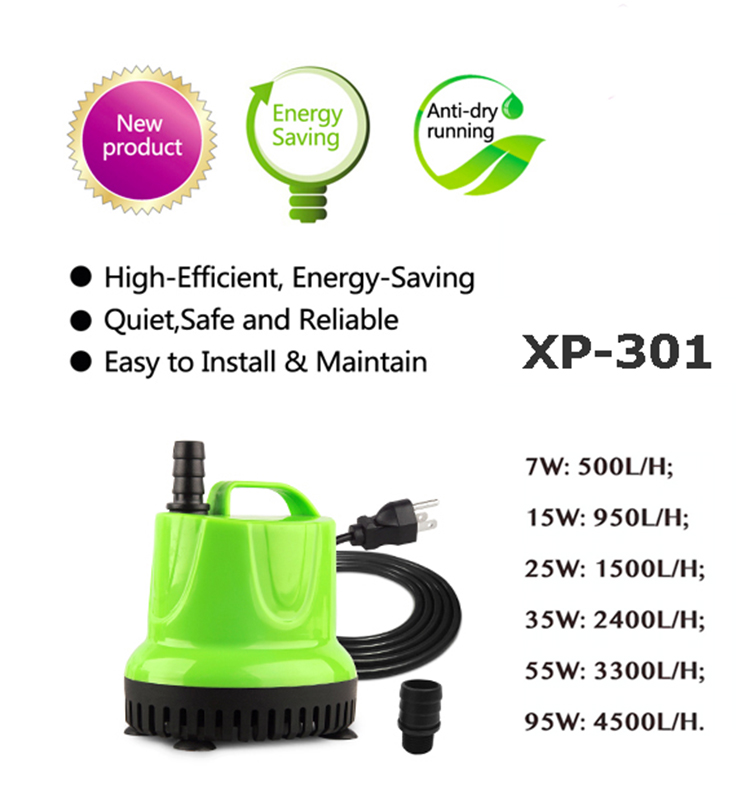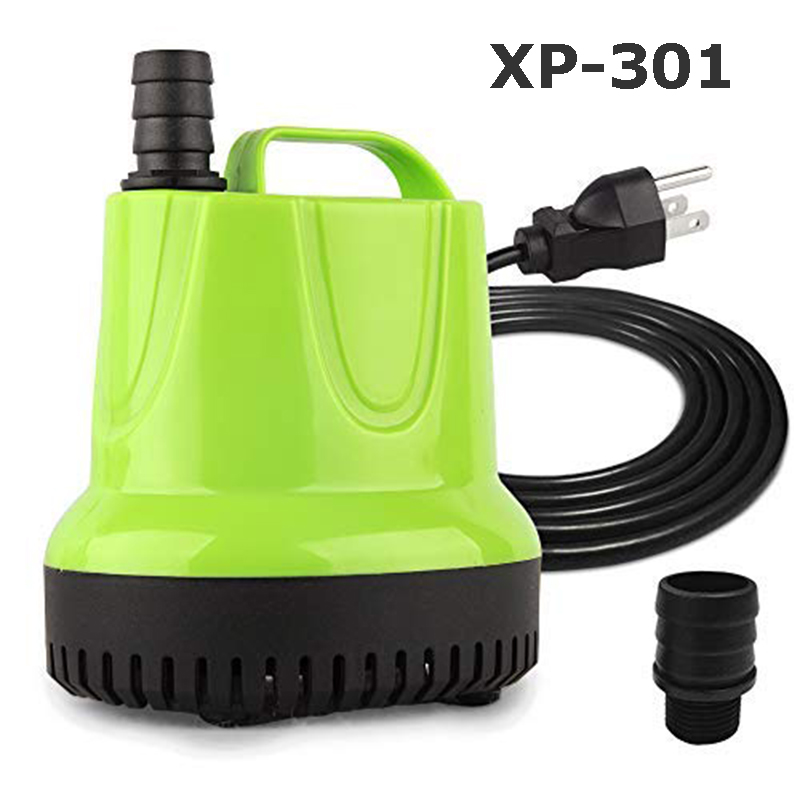 IMPORTANT NOTE:
1. As this aquarium pump is submersible, and need to be put into water fully before power on to avoid the aquarium pump burning out.
2. If the water pump is stuck by anything like Mud, garbage, sea salt, etc. need to be cleaned with clean water before use.
3. The operating temperature range:0-115ºF.
4. Due to all the pumps need to be professional water testing by our manufacturer before shipment, if the water pump you received has a little water, please don't worry, the little water was left from professional water testing, it is a normal phenomenon. It is new and normal pump.
5. Due to the shipping transport, one or two broken pump is inevitable, if you received the shipping damaged pump, please get back to us to get the replacement or compensation.
6. The inner shaft will be with a bit little little lubricant to ensure the motor is working well, If you are raising sensitive fish or aquatic plants, please use them in other tanks for a short time then move it into fish tanks.