6-in-1 Aquarium Cleaning Tool 90cm extendable for fishing tanks

Aquarium Accessories-Cleaning Tool
Model No.:AS-591-90cm

6-in-1 brings you new experience, no need to wet your hands, simply clean the fish tanks.
With six kinds of accesories, making your fish tank clean and maintenance more simple.
Easily change the handl of the parts according to the need.
Specification

| | | | | | |
| --- | --- | --- | --- | --- | --- |
| Item No. | Length | Package | Fittings | Qty/ctn | OEM MOQ |
| AS-591-90cm | 90cm, extendable | Brown Box | 6 Fittings | 24pcs | 2000pcs |
| AS-591-100cm | 100cm, extendable | Blister Package | 5 Fittings | 45pcs | 2000pcs |
| AS-591-120cm | 120cm, extendable | Borwn Box | 5 Fittings | 16pcs | 2000pcs |
Fittings Included:
--Fish Dredge;
--Knife to algae;
--Tube brush;
--Adjustable angle flat brush;
--Adjustable angle square brush;

--Sand rake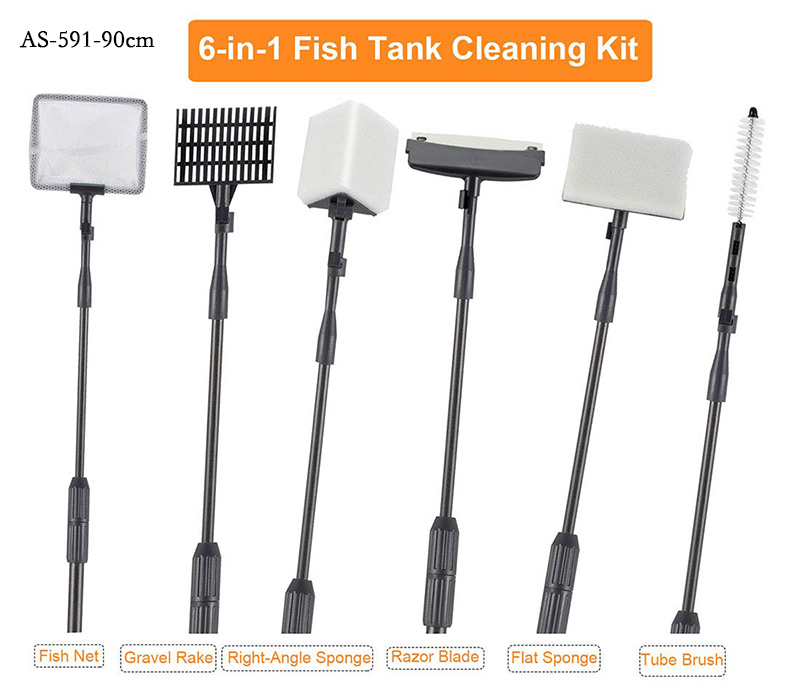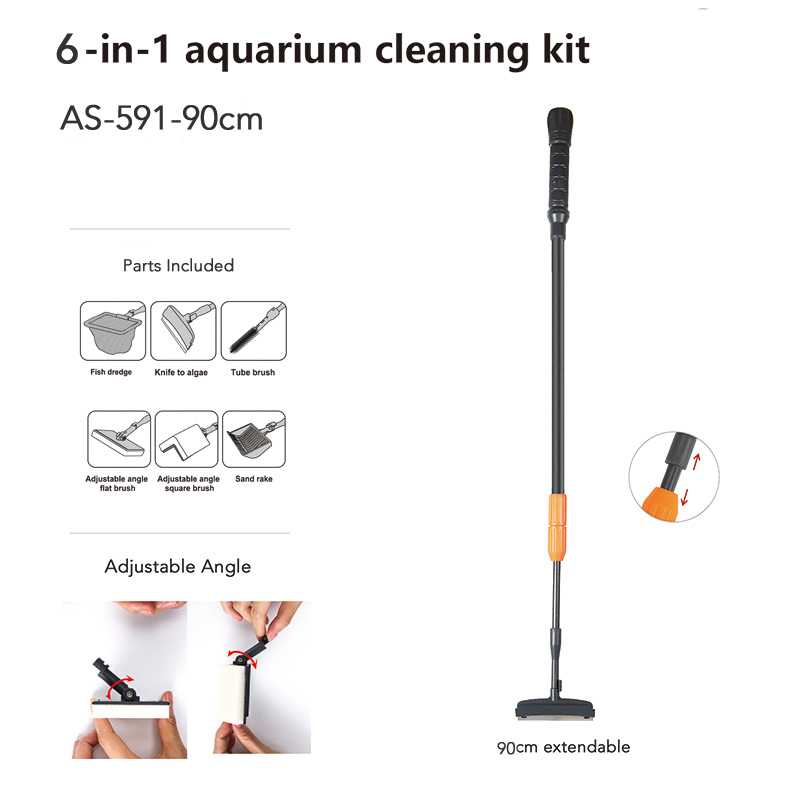 Features:
---For easy and effective cleaning of interior aquarium panes;
---Removes algae and dirt quickly and effectively from aquarium glass panes;
---Not tools necessary for blade change;
---Quick cleaning through extra large working width of 8cm;
---Blade with precision cut and blade protection;
---Extra long durablity of the blade;
---Integrated silicone protection prevents cutting into the glass bonding;
---Unbreakable glass fibre bar;
---For fresh and marine water aquariums